Alliance Member Acting Deputy Chief Randy Patrick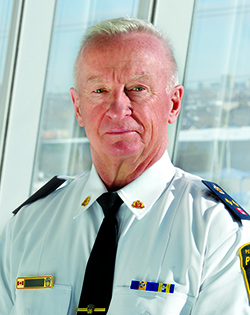 Acting Deputy Chief Randy Patrick
Acting Deputy Chief Randy Patrick began his career as a Police Constable with the Peel Regional Police in 1980. His initial postings saw him gain experience in Uniform Patrol, the Youth Bureau, and the Criminal Investigation Bureau.
As Acting Deputy Chief Patrick moved up the ranks his postings included Officer-In-Charge of the Central Robbery Bureau, Court Services, Records Services and as the Divisional Commander at 12 Division in Mississauga.
Following his promotion to Superintendent in 2008, Acting Deputy Chief Patrick was assigned as the Executive Officer to the Chief of Police serving under Chief Michael Metcalf. In November of 2011 he was promoted to Staff Superintendent and became the Officer-In-Charge of Corporate Operations. In February of 2019 he was appointed as the Acting Deputy Chief in charge of Corporate Services Command.
Acting Deputy Chief Patrick has received the Police Officer of the Year Award in 1989 and again in 2002, the Knights of Columbus Humanitarian Award in 2008 and in 2016 was appointed the Order of Merit of the Police Forces by the Governor General of Canada at a ceremony at Rideau Hall in Ottawa. He also has a Certificate in Administration from Dalhousie University and is a graduate of the Institute for Strategic International Studies.
Acting Deputy Chief Patrick continues to represent Peel Regional Police on numerous committees including the OACP, Common Police Environment Group Committee, the CACP, Human Resources and Learning Committee and the Ontario PSBN Association.