Alliance Member Chief Nishan Duraiappah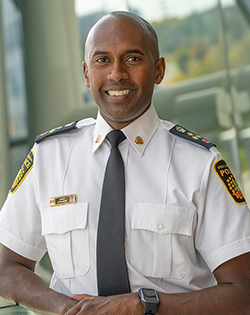 Chief Nishan Duraiappah
Chief Nishan Duraiappah was born in Sri Lanka, and immigrated to Canada. He began his career with the Halton Police in December 1995. He served as a Constable for several years in uniform patrol in the towns and cities of Milton, Halton Hills and Burlington and in their general investigative divisions.
Throughout his career he has worked in the Regional Drug & Morality Bureau, Guns & Gangs Unit, District Criminal Investigations and with the RCMP Combined Forces Special Enforcement Unit. He also maintained a strong commitment with many of the Region's diverse, cultural and faith communities as the Halton Police Diversity & Cultural Relations Coordinator.
Chief Duraiappah has served as the Operations Commander for Milton and Halton Hills, the Commander of the Office of Continuous Improvement and Strategic Management (OCISM) and Chief's Executive Officer. He was promoted to Deputy Chief in the fall of 2015, charged with leading District Operations for all four municipalities, and the Regional Community Mobilization Bureau, Information Technology and Strategic Management Office.
In October of 2019, Chief Duraiappah was appointed Chief of Peel Regional Police.
Chief Duraiappah holds a Bachelor of Arts Degree in Sociology and Criminology from the University of Toronto, and a Diploma of Public Administration from the University of Western Ontario. Chief Duraiappah serves on the OACP Board of Directors and has served on various OACP Committees throughout his career. He is the recipient of the Queen Elizabeth II Diamond Jubilee Medal (2012), and is a Member of the Order of Merit Canada (2016).
Chief Duraiappah has maintained a strong commitment to his community and is involved with several sports and hobbies as well as a volunteer board.