Alliance Member Superintendent Anthony Odoardi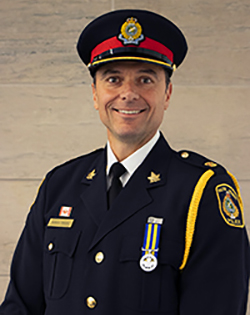 Superintendent Anthony Odoardi
Superintendent Anthony Odoardi joined the Halton Regional Police Service in 1995. His policing career started as a uniform patrol constable in the Town of Halton Hills. Since that time he has worked in all four HRPS districts including Regional Headquarters. Supt. Odoardi has served in a number of capacities including roles within the Criminal Investigations Bureau, Professional Standards, Security Commander for the 2015 Pan Am Games, Regional Investigative Services and most recently the Strategic Management Office. Supt. Odoardi is also a designated Critical Incident Commander for the Services response to major incidents.
Anthony began his role as Superintendent of Burlington Operations in January 2019 and is continuing to enhance community safety and well-being with all community partners to ensure Burlington remains one of the safest cities in Canada. Anthony sits as Vice-Chair for the Board of Directors of RADIUS Child and Youth Services, an agency providing therapy and counselling services to those who have been impacted by sexual abuse.
Anthony also serves on the HRPS Enterprise Project Governance Committee and has sponsored several Service–wide projects which include:
The HRPS' first Digital and Mobile Strategy;
Implementing Halton's first ever (and one of Ontario's first) Cyber-Crime Investigative Units;
Naloxone issuance to HRPS members to battle the fight against the Opioid Crisis and;
HRPS's review of Sexual Assault investigations.
Anthony currently leads the Ontario initiative to advocate for a flexible and federated Public Safety Broadband Network model which provides choice for Canada's Provinces and Territories.